Need to Book a Hotel ? CALL 08452040404 - 022-65165500
Satyan Inn
Nagar Manmad Highway,
Near Government VIP Rest House,
Shirdi - Tal.- Rahata,
Dist -Ahmednagar,Maharashtra.
Hotel Satyan Inn Shirdi is a new 3 Star hotel in shirdi, offering comfortable staying option and is very close to Lord Shirdi Saibaba Temple only 07 minute Walking Distance.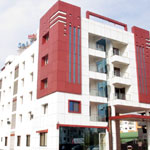 Hotel Sai Sangam Shirdi
Sonawane Vasti,Opp.Water Park,
Shirdi, Tal - Rahata,
Dist - Ahmednagar, Maharashtra
Hotel Sai Sangam Shirdi is a 2 Star deluxe facility, located at near Water on Park Shiv Road, Sonawane Wasti in Shirdi.