Need to Book a Hotel ? CALL 08452040404 - 022-65165500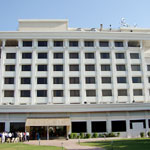 Hotel Sun N Sand Shirdi, Plot No. 109/P - 124/P,
Village Nighoj,Taluka Kopergaon, Shirdi 423 109.
Contac for Booking Hotel Sun N Sand Shirdi
Whatsapp - 8452040404
Whatsapp - 9224444455

5 Star Hotel in SHirdi
The most popular 5 star hotel in Shirdi, Sun-N-Sand is a ten minute walk from the temple. This Shirdi hotel's location gives you the feeling of being near the Sai Baba temple at the same time away from the hustle bustle happening around the temple.
starting from
5000 Per night
Hotels Not Found