Need to Book a Hotel ? CALL 08452040404 - 022-65165500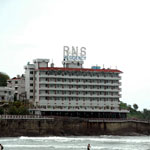 RNS Residency
Murudeshwar - 581350.
Bhatkal Taluk, Uttar Kannada, Karnataka.
RNS Residency is a beach-side luxury hotel, offering the poise of stay, affluence and dines to the core. The wood-rich decor and the traditional ambience are some inimitable features of the place.
starting from
0 Per night
Hotels Not Found